Sunshine Coast Grammar School - Awarded 2023 Sunshine Arts Fest People's Choice Award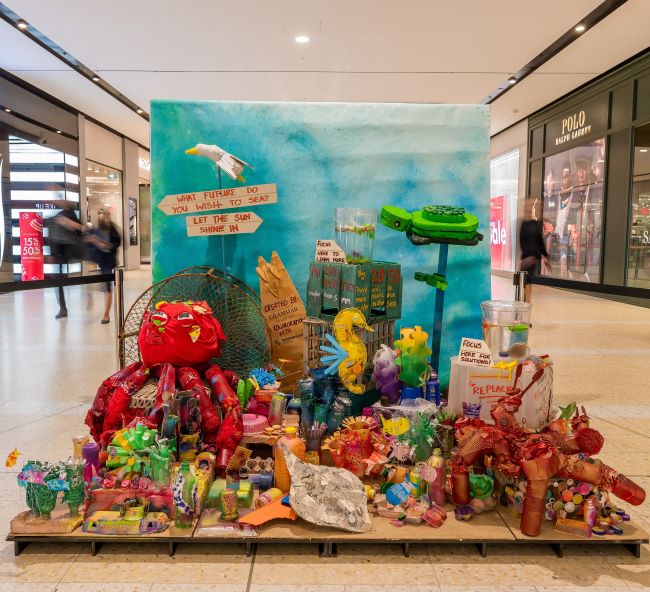 Our world is intoxicated with waste. This installation, constructed with recycled waste collected from our community, confronts viewers on the consequences of their environmental footprint. "Let the sunshine in" inspires us to protect the life and coral living in the Sunshine Coast waters. When a light shines, it reveals truths, stirring up curiosity within us to explore solutions for a cleaner future.
What future would you like to sea? The choice is yours. In collaboration with Sunshine Coast Council we encourage you to act now and make a change. It's up to you!
This installation has been proudly designed by the team at Sunshine Coast Grammar School.
Leaders: Miss Bianca Crawford, Dr Sara Zitner, Sandie Johnston (Sunshine Coast Council), Leisa Baldwin (Sunshine Coast Council)
Students: Mattise Fewings, Pippa Elmes, Heidi Paynter, Zara Esselmont, Eve Elford, Maheen Tariq, Violet Matiriani, Scarlette Mays Duncan, Isla Fielding, Zoe Fogarty, Avalon Bohner, Taylor Fay, Mia Clack, Cedar Fewings, Soyun Park, Kira Bennetts, Eden Levin, Xanthea Frohloff, Lotta Elmes, Michelle Combrinck, Sophia Paynter, Peter McInnes, Isla Natalier, Chloe Esselmont, Grace Pohlen, Keeva Craig, Jade Levin, Georgia Fogarty, Aleena Tariq, Lisara Chulatunga, Layla Wilmot.
Please click here to see the full Terms & Conditions of Sunshine Arts Fest.