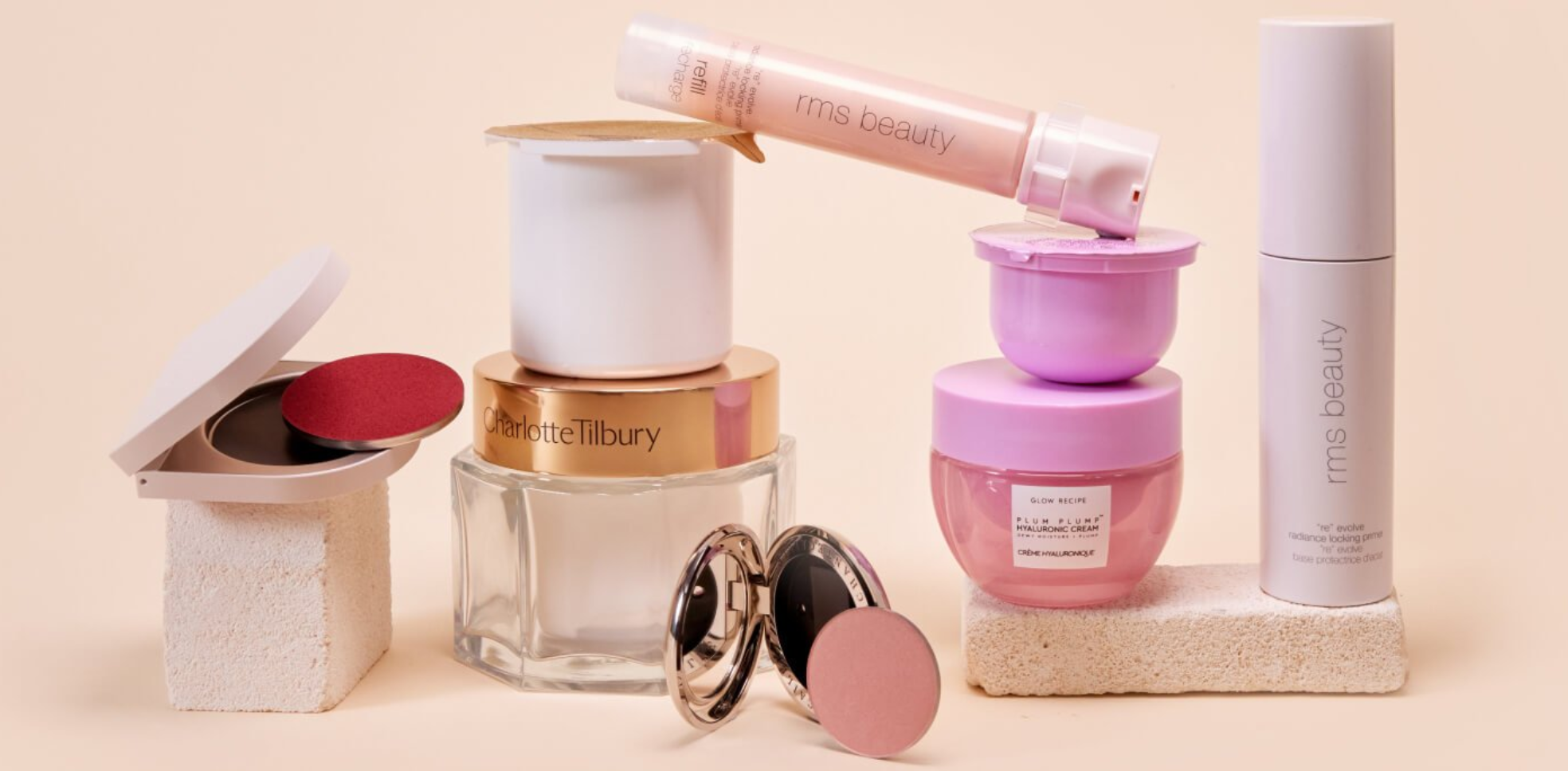 Mecca
The hottest colour in beauty right now? Green. At Mecca, they don't mean a chic shade of olive eyeshadow or mint nail polish, but rather, doing right by Mother Nature – taking steps to minimise their impact on the Earth and putting sustainability at the forefront. (Friendly reminder: all MECCA stores across Australia and New Zealand have an in-store TerraCycle® bin, so you can recycle all those #empties.)
The latest initiative: refillable beauty products. The idea is that once a consumer has finished a product, they hold onto the original outer vessel (a jar, bottle or tub) and refill it with a pod, pouch or cartridge of new product. By designing packaging with the intention that it will never be thrown out, the aim is to reduce excess waste.
It's a new way of thinking about beauty (buy once; refill again and again) and rewriting all those traditional beauty rules - something they're very big on at MECCA. Here are the brands leading the way.
Emma Lewisham: As part of its 'Beauty Circle' program (in which the brand aims to take responsibility for all its used packaging through refilling or recycling) the entire Emma Lewisham lineup is designed to be refilled, including favourites like the Skin Reset Serum, Illuminating Oil Cleanser, Illuminating Brighten Your Day Crème, Supernatural Face Oil, and Skin Reset Eye Crème. But what to do with your empty refill pod? Return it to Emma Lewisham and where possible, the brand will sterilise them and put them back into circulation to be used again and again.
GLOW RECIPE Plum Plump™ Hyaluronic Cream AND Refill Pod: Meet the first refillable moisturiser from this fruit-forward, K-Beauty inspired brand, with a refill pod that's made from 50 percent post-consumer recycled materials. Treat your skin to the delicious whipped gel-cream texture and moisturising, balancing formula (take a bow, hydrating polyglutamic acid, multimolecular weight hyaluronic acid and brightening plum), and you'll be rewarded with a juicy complexion.
NÉCESSAIRE The Body Wash Eucalyptus AND Refill: Come for the skin-softening, nourishing and never-drying all-over cleanse, stay for the value: one refill (housed in a post-consumer recycled aluminium container) fills two (yes, two!) standard bottles of The Body Wash. But that's not all – Nécessaire was founded on the principle of 'less, but better', and that doesn't just apply to their stylishly minimalist packaging or stripped-back, just-the-good-stuff formulas. Check out their Footprint page to see how the brand is committing to environmental causes, waste reduction and carbon minimisation.
ISLE OF PARADISE Medium Self-Tanning Water AND Refill: No need for a separate face and body self-tanner — this product can be used on both. Hooray! Just mist it on and, in four to six hours, skin is left all bronzed and glowing, with a side of colour correcting (there are some green tones in there to neutralise any redness — clever!). And another hooray for the refillable pouch, made with 81 percent less plastic.
Maison Margiela: Stock up on one of Maison Margiela's 100ml REPLICA fragrance refills — By The Fireplace EDT Refill, Lazy Sunday Morning EDT Refill, Jazz Club EDT Refill or Beach Walk EDT Refill — and not only will you reduce the chance of ever running out of your signature scent (the horror!), you'll also be able to fill your 30ml flacon three times, reducing glass, plastic, paper and metal consumption by a total of 32 percent, or refill your 100ml bottle once. Makes good scents whichever way you look at it.
Click here to discover more products.